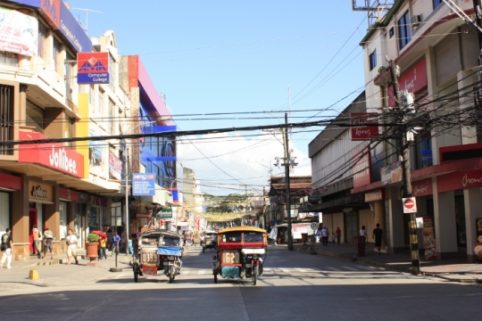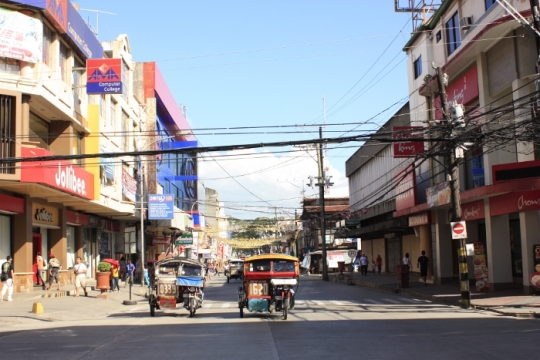 I was overwhelmed when I first arrived in Dumaguete.
When you haven't travelled for a while, you forget the overwhelming feeling of being somewhere that you know nothing about. As soon as I landed and felt that warm ocean breeze I was, to be honest, nervous. I had no idea where I was or where I was going. All I had were directions from my friend Jenn, "go to Dumaguete and stay at Harold's Mansion." So I booked a flight and, with no Lonely Planet in tow, no Internet research, and just a few tips from a travelling friend, I was on the Dumaguete airport tarmac walking into the unknown.
As soon as I left the airport I grabbed a cab which, as usual, ripped me off. For some reason when I first get to a place I overpay for a cab fare; it happens every time. I later found out that my 150 peso tricycle ride should have cost about 20. But when you travel you quickly learn the prices. I really should do some research before I go to places, but I can never find the right information, and it's always changing.
The tricycle took me right to Harold's Mansion, one of the few backpacker places in Dumaguete. Once I settled into my dorm bunk, I decided to walk into town, check the place out and change some money. I loved my evening stroll into downtown Dumaguete. All the students were out and about, just finishing up classes for the day. Girls in their pink skirts that caressed their ankles and white blouses, boys in their prep-school uniforms of black pants and a white golf-shirts stood around the local shops waiting for tricycles, buying snacks and talking about high school things.
It was then that I started to feel a bit uneasy. I forgot what it was like to travel after living at home working a 9 to 5 the last few years. All of a sudden, I remembered that I was thousands of air-miles away from home, on a tropical island somewhere in the pacific ocean, with nothing familiar around an no one I knew. I got nervous.
Soon after I remembered this is travelling. It was comforting to think that I still get nervous going to a new place alone. It takes practice to embrace the unknown , to trust yourself, to observe something new and soak it all in. Soon that nervousness, the feeling you get before performing at a school concert, that fear of the unknown, disappeared. As I continued my walk, I was calmed by the thoughts that I was an explorer.
When I got back to the hostel, I called the one number I had of someone I knew in the city. It was Jenn's friend Laura. Luckily, travelers luck, hospitality, generosity, whatever you want to call it, kicked in. Before I knew it I was eating jumbo prawns on my new friend's balcony, surrounded by people who had been living in Dumaguete, diving or teaching. There were two Danish travellers, Mikkel and Magnus, a Thai named Tommy, Laura from England, and Shayn (pronounced 'shine').
The next week I spent scuba diving and exploring Negros Oriental and it's surrounding islands with my new Danish friends. Turned out that Magnus was a dive instructor and Mikkel was working towards his dive master. Mikkel and I became dive buddies, and I spent most of my two weeks in Dumaguete diving in Apo, Dauin, Cebu and Sumilon. I also travelled to Bohol . Mikkel and I spent a night with Laura, Magnus and Shayn in Siquijor exploring waterfalls, deserted beaches and the Tanduai – the best rum in the world!
What started off as a leap into the unknown turned out to be two weeks in paradise, exploring the islands and waters surrounding Negros Oriental with new friends. These new friends shared Dumaguete with me. I learned so much from them. I learned how generous people can be. Laura shared her beach house and scooter while she was away so that I could have a comfortable place to stay during my stay. Magnus and Mikkel shared their knowledge of the ocean and passion for diving with me. All these new friends shared Dumaguete with me as they took me around to explore everything from traditional Filipino cock fights in Valencia, to waterfall cliff jumping in Siquijor; they shared their lifestyle with me, and for a couple weeks I knew what it was like to live like an island diver.
Now I'm travelling again. I'm not as afraid of the unknown anymore. Living in Dumaguete with my new friends allowed me to rediscover what it's like to travel. It reminded me that everything works out and most of all they prepared me for my new adventures. I learned about the generosity of fellow travellers and the joys of sharing language, culture, and lifestyle and now I'm ready and yearning for more. Thanks guys!
http://borderlesstravels.com/wp-content/uploads/2014/05/d61d44254608dd06ccdd2ff02982d14d_XL.jpg
360
540
Ian Yacobucci
http://borderlesstravels.com/wp-content/uploads/2017/10/small-1-300x75.png
Ian Yacobucci
2012-02-07 11:35:06
2018-03-27 18:10:40
My time in Dumaguete : travel jitters, new friendships, scuba diving, and relearning how to embrace the unknown